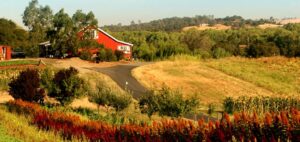 ORANGE, Calif., June 22, 2018 /PRNewswire-USNewswire/ — Working together with a class of undergraduate students, economist and professor Jim Doti, Ph.D., developed a statistical model to rank 39 counties in California according to "most undervalued" and "most overvalued." (See illustration attached.) Nicknamed "the Amenities Factor," the model takes into account such statistics as the county's median income level, the average price of a home, adjacency to the Pacific Ocean, and the climate index. The higher the income level in the county and the nearer to the Pacific Ocean, the more valuable the real estate is.
"I am a transplant from Chicago," says Doti, "and I have believed for 40 years that there is more value to a home in California than just the price. The Amenities Factor explains why. We hear that the secret to real estate is 'location, location, location,' and the Amenities Factor proves the adage."
An econometrician and the founder of Chapman University's annual Economic Forecast, now in its 40th year, Doti took the lead on creating the Amenities Factor as a class project for his undergraduate Statistics course at Chapman University in Orange. The students reviewed the data and crunched the numbers. Some surprises resulted.
Applying the Amenities Factor model, for example, Riverside County is more "overvalued" than both Orange and Los Angeles Counties. Kern and Sacramento County are right in the middle, neither highly over- or under-valued. Meanwhile, Placer County is the most "undervalued" county in California and Santa Clara is the most "overvalued." (A full list of the counties in order of value is attached.)
About Chapman University: Founded in 1861 and based in the city of Orange, California, Chapman University is one of the oldest, most prestigious private universities in California and is the largest independent university in Orange County. With a student body of 7,020 undergraduate students and 2,367 graduate students, Chapman University offers all the opportunities and resources of a large institution with the personalized attention of a smaller university. The University employs 489 full-time instructional faculty and maintains a 14:1 student-faculty ratio and an average class size of 23 students. Known for its blend of liberal arts and professional programs – including film, science, business, education, humanities and performing arts – Chapman encompasses ten schools and colleges. Professor Jim Doti is President Emeritus of Chapman University, having served as its president for more than 25 years before returning to the classroom to teach in 2017.
SOURCE Chapman University