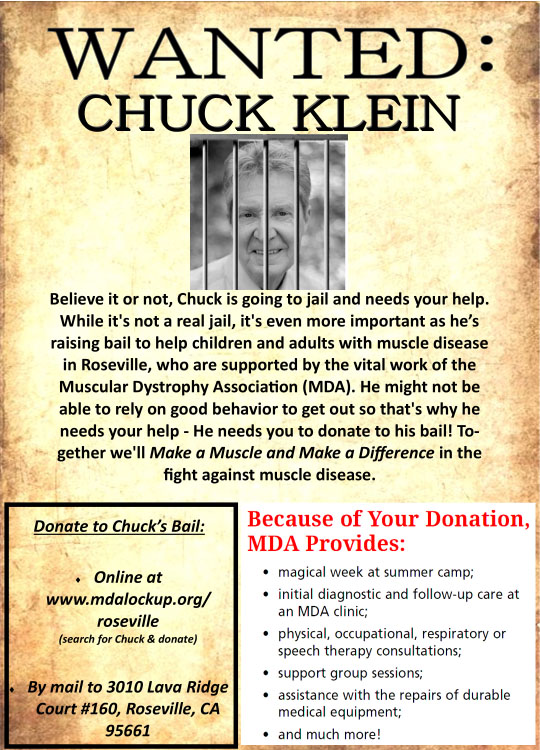 I'm going to jail!  Yes, you heard me right!
This year, I was nominated as one of "Roseville's Most Wanted" to be a "jailbird" at the MDA Executive Lock-Up on October 1, 2013 at Granite Bay Golf Club.  Through the tremendous generosity of my family, friends and colleagues, I need to raise my "bail money" which will help the MDA fund a number of vital programs.
The MDA is dedicated to finding treatments and cures for muscular dystrophy, amyotrophic lateral sclerosis (ALS) and other neuromuscular diseases.  The MDA funds research, clinics, provides health education, and supports families in our community.  One of the programs that I am especially proud to support is providing local children with neuromuscular diseases with the opportunity to attend MDA Summer Camp.
Please help me raise bail to spring me out of the slammer and support the Muscular Dystrophy Association by donating now to my personal jailbird site:  http://www2.mda.org/goto/chuckklein    or you can also send a donation in the form of a check made payable to MDA.
Your donation is tax deductible and all of the money stays local.  Thank you in advance for your support!
Donations of $100 or more can be recognized as a Business Supporter at the event.  Donations can be made online or offline and I would need your business card by September 24th.
Will you join me in making a difference in a child's life?
Click here to donate:  http://mda.convio.net/site/TR/Lock-Up/88-837-SacramentoDistrict?px=1944801&pg=personal&fr_id=7429