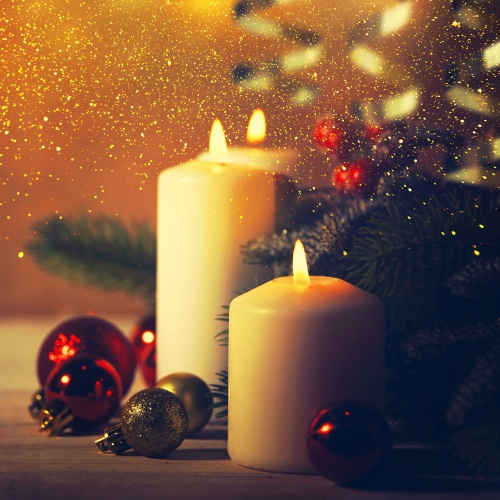 Are you feeling a little overwhelmed this holiday season? If you're buying or selling a home now or in the near future here in Roseville or the Greater Sacramento Area, then you may not have the time or energy to get into the holiday spirit. Not to worry — you can still make your home feel very festive with much less effort than usual. Here are some of the best ideas we've found to quickly and easily decorate your home during the holiday season.
Display ornaments
If putting up a Christmas tree is just not in the cards for you this year, there's no reason you can't still enjoy some of your ornaments. There are several ways to quickly and easily create a beautiful display choosing your favorites. Pick one of your large bowls and arrange a handful of ornaments inside to make an elegant and effortless centerpiece. You can also use several small lengths of ribbon to hang ornaments inside a window where they will catch the sunlight. For some extra sparkle, tuck a few glass or metal ornaments on a plate with pillar candles or hang them from your chandelier to reflect the light. Once you start looking for places to hang or set ornaments around your home, it will be hard to stop.
Forage in your backyard
There's no reason to spend lots of cash on pre-made wreaths and holiday arrangements. You can recreate the look for much less using what you already have in your yard. Place a few large dry branches in a vase and hang ornaments on them. Trim some branches from your evergreen trees and bushes and display them in a vase or use them to create a base for pillar candles. Single berry branches look beautiful in glass bottles displayed in a group. Even a simple bowl of pinecones on the coffee table can add a comforting, rustic touch to your holiday décor.
Create a candy centerpiece
Since you're probably already going to pick up some candy to give out as holiday treats, why not get a little extra and use it to decorate? You can arrange candy canes around a vase or pillar candle for instant cheer. Or layer colorful candies in a tall jar and display on your mantle. Instead of ornaments, string candy canes from ribbons in your windows or hang a few on the chandelier. You can even use them to make a quick and easy wreath. All you would need is a little hot glue and a ribbon. What's great about this decorating idea is that as the holiday winds down, you can give the candy as gifts so you don't have to worry about packing everything away for next year.
DIY the tree
Who says you have to put up a traditional Christmas tree? If you want to save time, you can DIY your tree with items you probably already have at home. Use string lights and drape them in the shape of a tree on your wall. Repurpose a ladder by stringing it with lights and hanging ornaments from them. Stack books in the shape of a tree and wrap lights around them. Elevate one your houseplants and use it as your tree this year. Create a tower of boxes in different shapes and sizes and top with a star. Or use a tomato cage from your garden and wrap it with lights. It only takes a little imagination to create a Christmas tree that everyone will love, so look around to see what you have.
Brought to you by your Roseville Real Estate Agent – Chuck Klein. For more information on the Roseville housing market, real estate and homes for sale in Roseville and The Greater Sacramento area, please contact Chuck at (916) 996-6222 or email.
Compliments of Virtual Results