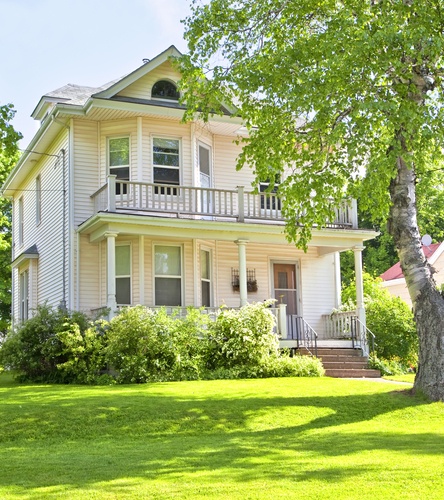 When searching for a new place to call home in the Roseville and Greater Sacramento Areas, many homebuyers will pass over older homes. They worry that an older home will be full of problems that will require expensive repairs, or that the layout or design will be too dated. While there are some risks associated with buying an older home, there are benefits as well. Here are some of the best reasons why you should consider buying an older home.
More character
Let's face it – many of the new homes on the market today lack character. When developers design new subdivisions, homeowners generally have just a few layouts and designs to choose from. All the homes end up looking similar as if they came from a cookie cutter. If you crave a little more diversity, an older home is the way to go. Many older homes have great character with unique qualities that make them different from the other houses on the block. You'll also find more interior details like carved moldings, wainscoting, and pocket doors.
Good craftsmanship
"They don't make 'em like they used to" is unfortunately true. In an effort to make housing more affordable, newer homes often use lower quality materials, such as hollow core doors or cabinets made from particle board. When you buy an older home, you're more likely to find better craftsmanship and higher quality materials throughout, like solid wood doors and cabinets. These materials hold up better over time and often age beautifully.
Established neighborhood
As cities like Roseville continue to grow, new homes are built further and further away from the city center. When you buy an older home, you're more likely to be in an established neighborhood closer to amenities like shops and restaurants. You'll find that some of your neighbors have lived there for years or even decades. There's likely to be a greater mix of ages, from young families to empty nesters, and a built-in sense of community. Your neighborhood will also have more mature trees and vegetation, adding to the beauty of the community.
Lower cost
Generally speaking, an older home that is comparable in style and size to a new home will be less expensive. Because the home is older, there's usually more room for negotiation with price – more than what you would find in a neighborhood with all new construction. Of course, you may end up using those savings to make repairs and updates to the house. However those investments will increase the value of your home when it comes time to sell, and if updating you can do so to your tastes. In addition, you're less likely to live in a community that's governed by a homeowners association or that has a Mello Roos tax, saving you monthly fees.
Great investment potential
Finally, older homes can have great investment potential. Older homes that are in great condition or in a great location can be hard to come by, giving you a leg up in the marketplace when it's time to sell. This is especially true if your home has any unique architectural features that aren't found in newer construction. If you make well-chosen renovations, you can boost your home's value by more than what the project takes to execute, as long as it's done well.
Ultimately, when you're on the hunt for a new home, don't ignore those listings you see for older homes. They could be exactly what you're looking for.
Brought to you by your Roseville Real Estate Agent – Chuck Klein. For more information on the Roseville housing market, real estate and homes for sale in Roseville and The Greater Sacramento area, please contact Chuck at (916) 996-6222 or email.
Compliments of Virtual Results