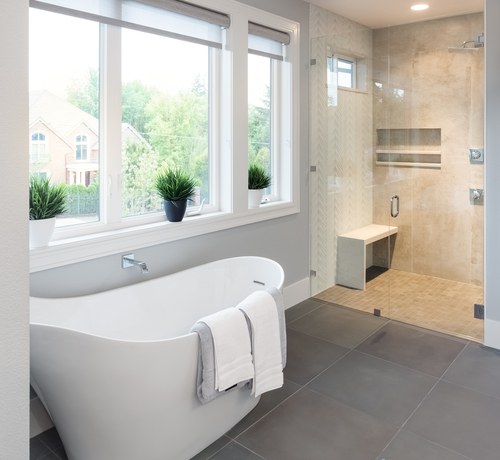 You may have seen while searching online for homes such things as half bath, full bath etc., below is a list of the true definitions
Full bathroom
First, let's start with a full bathroom. The full bathroom consists of what tends to be either one or two sinks, a tub and a shower. Many times you will see a full sized closet in the master bedroom bath.
Half bathroom
A half bathroom contains a sink and toilet but no shower or bathtub, typically found on the first floor of a two story home. Also known as a powder room or guest bathroom.
3/4 bathroom
Technically, a bathroom with a sink, toilet and tub, but no shower, could also be considered a three-quarter bath.
Two and a half baths
Two and a half baths is simply two full bathrooms and one half bath. Typically the larger the home the more bathrooms it will boast.
Double sinks in a bathroom are often referred to as "Jack & Jill" which is common these days.
So, to break it down this is what it means:
2.5 bath would be two full bathrooms, and one half bathroom
1.75 bath would mean one full bathroom, and one 3/4 bathroom
1.5 would mean one full bathroom, and one half bathroom
2.25 would be a full bathroom, a three-quarter bathroom, and a half bathroom.
So there you have it. Please do not hesitate to call me at (916) 996-6222 with any questions about buying or selling your home!