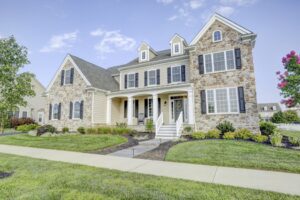 Currently, one in six Americans lives in a multigenerational household, which is defined as a home occupied by more than two generations. This is often an adult or married couple, their offspring, and one or more of their parents. According to Generations United, multigenerational living is triggered by multiple factors, including finances. One common reason for moving an aging parent into the home is loss of their spouse or long-term partner.
Buying a home for a multigenerational household can be a challenge. However, there are a few things to consider that may make the process easier.
Location. If the decision has already been made to combine households, the next major decision will be location. If you already live in the same general area as your aging loved one, it may not be that difficult. However, if you live many states away, your loved one will likely need to relocate. Be patient with them, as moving is a huge life change, and can be tough. Remind your loved one that they will have new opportunities for socialization and stimulation, as well as a friendly, helping hand when daily tasks become difficult. To ease the transition, include your loved one in the entire process, and address all questions and concerns. Give them control over the set up of their new space, and help them maintain their regular routine as much as possible. Remind them that this is their space too, so all opinions and suggestions are welcome.
Price. Price is, of course, another major concern as moving additional bodies into a home means upsizing and adding extra space. If your loved one is unable to contribute financially, this can create an added burden. But you do have options. Create a savings account, and put a portion of your paycheck into it, or ask siblings to contribute. Perhaps now is a time to revamp your finances and cut back on money spent on eating out, vacations, entertainment, groceries, etc.
Physical abilities/disabilities. Even though you're upsizing, you may need to look for a single-story home or one with at least one bedroom and bathroom on the lower floor. Many seniors suffer with mobility issues that could prevent them from safely and easily moving up and downstairs. Discuss with your spouse, children, and parent what features are necessary. There are a number of home modifications that can make an even less-than-perfect home safe and comfortable for your elderly family member.
Proximity to amenities. When searching for a home, you'll also want to consider location as it relates to amenities and services that benefit you and your family. Issues such as caregiver stress may make it necessary to live near an adult day care or senior center. According to the Department of Health and Human Services, adult day care centers, which are located throughout the country in every major metropolitan area, provide care and companionship for the elderly while their caretaking family members work or handle personal business. You will also need to take into account his or her medical conditions and any doctors or specialists you may need to regularly visit. The quality of schools and access to open recreational spaces will also be a consideration if you have children.
Personal space. Moving is a major life event and buying a home to accommodate an aging relative can be a trying time, especially if you have teenagers living in the home. According to the AARP, you must communicate with everyone regarding your new familial set up. If budget allows, consider looking into a home with an in-law suite to allow your aging parent some autonomy and to give the other members of your household their own personal space.
Living with an aging parent or grandparent can be remarkably rewarding. But it is not without its challenges (Caring.com does a great job of explaining the most common of these.) However, if you are willing to put forth the effort, take the time to understand both your aging relative's needs and that of your own family, you can circumvent many of the issues that go along with combining households.